To provide reliable wholesale distributors for boutique owners from all over the United States. This e-commerce store focuses on women's wear and has a rich inventory, including slim bandage skirts, party dresses, cocktail dresses, sexy dresses, women's suits and underwear. Wowdear cooperates with leading designers and companies, where they purchase products, making their store a diversified series that meets all needs.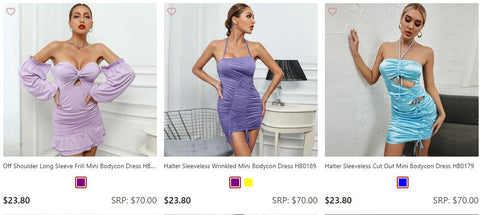 Talking about why every boutique owner must make every effort to find reliable suppliers, The company spokesman commented: "As a boutique owner, there is no shortcut to success. The only way to gain excellent market reputation is to provide your customers with high-quality clothing. Your suppliers directly determine the quality you receive, and there must be no compromise when looking for partners who can fulfill their commitments. We provide you with a one-stop shop for all boutique products, so that you can avoid the trouble of playing games with different suppliers."
  Wowdear provides unparalleled products at affordable prices, which strengthens the confidence of boutiques to purchase online from wholesale clothing suppliers. Because they buy goods directly from leading designers in Los Angeles and never have to maintain the high cost of operating physical stores, suppliers keep their operating costs at the lowest level. Wowdear passed these saved costs to their customers through low prices, without affecting the quality of clothing in any way.
  When it comes to the practicality of purchasing products online, A spokesman for the company said: "As a boutique owner, your focus must be to ensure that all your customers can get a good shopping experience every time they visit your store. To achieve this goal, you need to spend most of your time on customer service, and spend little time on inventory procurement. As an online distributor, we make this possible, because we allow you to click a few buttons to replenish goods and ensure fast delivery, which will make your The store has sufficient inventory. "
  The fashion market attaches great importance to women, and constantly introduces brand-name clothing. Boutique owners must always seek to gain better market appeal. Understand the necessity of the boutique to take advantage of all these opportunities through diversified inventory, and never lack the exclusive series of the latest designer products for customers. The pursuit of women in wholesale clothing will lead to the growth of current customer base, which is completely solved by distributors who are proud of fashion awareness.
  If you like our website, you can first observe that our products suapport online purchase or contact customer service.