Social networking is one of the skills that everyone should master. Having good social skills will make your network wider, and people with wide connections may find more solutions when they encounter problems, at least they will not be helpless, so it is still necessary to broaden their interpersonal relationships. As the saying goes, parents at home, friends at home, so how to know more people? Xiao Bian thinks that attending a party is a good way, but you must pay attention to your own clothing collocation when attending a party.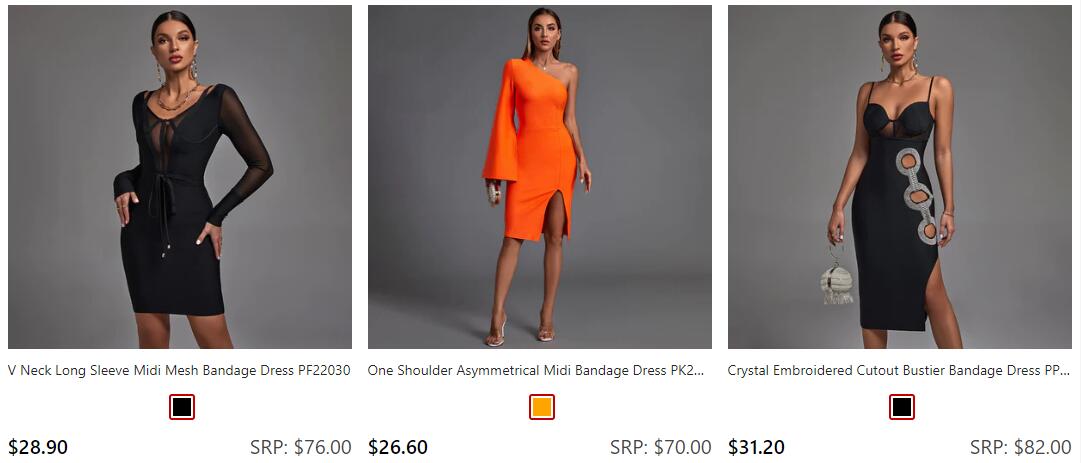 Click to buy : party dress
       What to wear for the party
  1. Intellectual and elegant clothes
  Since it is a workplace party, it is better to dress elegantly. If it is autumn and winter season, you can wear a down jacket outside, and wear a relatively thin dress inside. Black is the best, red is too dazzling, and black dress is the best.
  2. Vintage cheongsam style
  As the clothing of ancient Chinese women, cheongsam has a special charm. You can wear clothes that are slightly like cheongsam instead of cheongsam, which will not make people feel that they are stealing the show, but it also looks very unusual. You should know that once a woman wears a cheongsam, she is very stylish.
  3. Wear sexy clothes
  A party is to relax yourself when you play crazily, so you can wear a different style than when you work, show your charm as a woman, make your figure more prominent, wear sexy clothes, and make yourself the shining point of the party.
  4. Lovely and sweet style
  If you are a young girl who has just graduated from school, you can wear a lovely dress, which looks youthful and energetic, especially lively, but not too complex. It is OK to make people feel cute and sweet. Even the dress with a bow will also appear unusual and not show off at the party.
  5. Versatile dress
  If you don't know what to wear, or are not sure whether you can look good or not artificial when you wear it, you can choose a dress, simple and generous, which is a versatile choice for parties and a very safe way to wear. It makes people feel generous.
  6. Ordinary evening dress.
  Whether it is a party or a party, a cocktail party or an evening dress is essential. It can be a tight-fitting skirt or a long-tailed dress, which can reflect the elegance and nobility of women, and also more in line with the temperament of the party. Evening dress is also a versatile style for parties.
  Recommended dress for party
  1. Oblique shoulder dress
  Sequins are naturally one of the indispensable fashion elements for party occasions on festivals. Blingbling's flashing effect adds a lot of excitement to the festival atmosphere. The small dress with sloping shoulders can stretch the body to a certain extent. It is a hot item for girls to attend parties.
  2. Deep V-neck blinding top
  The top with deep V-neck is a very good choice whether it is a holiday party or going out on weekdays. The V-neck is more vertical in vision, and more prominent in curve charm. The waist binding effect will undoubtedly reveal the small waist. In addition, the bat-style style of the shoulder, the thick arms and everything are floating clouds.
  3. Pink feather skirt
  The extreme cold in winter makes many MM shy away from short skirts. Fortunately, there is such a beautiful occasion as a holiday party, which can let everyone show their good figure indoors. Pink feathers add to girls' cleverness and loveliness. If you wear thin high heels, you will have more women's charm and sexy. What temperament you want is up to you!
  4. Classic black yarn skirt
  If you still have a deep traditional plot for the party, and if you still have an unfinished dream of a princess, then you are the only one with the classic little gauze skirt. How can people not be infatuated with dignified and elegant temperament and retro and elegant style? Among many styles, this is the most versatile and the least error-prone one. It is also the most brilliant one after fancy thinking. It depends on what you want.
  5. Vintage dress
  In recent years, the invasion of the retro style has made fashion elements such as patterns, high waist, high shoulder, etc. become popular. In fact, in a party, retro can also wear fashionable feeling. The retro dress with a bra is very common, but with a bow belt, it will instantly have the effect of a dress.
  Suggestions for men's party clothes
  1. The pleated vintage shirt is gorgeous and formal. It can easily replace the traditional suit with one piece to break the dull feeling. It's better not to forget perfume. The fragrant and pleasant smell is a symbol of civilization and will leave a distinct impression, but it should not be too strong.
  2. For parties, it is generally suitable to wear wool jackets, jeans, casual clothes, jackets, etc. Men can wear jackets, woolen pullovers, vests, T-shirts, knitwear, boss's shirts and other casual tops. You can wear jeans, loose pants, etc., and you can also wear suits and sportswear with soft colors.
  3. In autumn and winter, men's windbreaker should also be used. Men who wear windbreaker always give a free and easy impression. Dress tidiness is the basic requirement of men's clothing, such as lapel, flat chest, no dirt on cuffs, no wear on heels, etc., which should give a clean and neat impression on the whole. Different dressing choices have different effects. You should choose the dress that suits your temperament and the occasion at that time. The clothes should be uniform on the whole. Don't wear casual clothes on the upper body, but wear formal clothes on the lower body.
  4. In principle, young men should wear more youthful, clean and lively clothes for the party. In addition, the bold use of some accessories, such as exaggerated waist chains with primitive totem patterns, narrow jacquard neckties, printed scarves, boots that are as long as the root of the lower leg or ankle, can show a lively, handsome, masculine and rugged.
  5. The men with short and fat figure, thick neck and round face should wear dark low "V" shaped collar and large "U" shaped collar suit. Men with thin, long neck and long face can wear light-colored, high-necked or round-necked clothes. Men with square faces should wear small round necks or double lapels.
  Different parties may wear different clothes. Parents should pay more attention when choosing clothes. What you can't wear is too different from the theme of the party, which may make you look a little different at the party. It's not so good. So don't look down on it when you go. The above is the relevant content about party clothes organized by Xiao Bian. You can use it as your reference. I hope it can help you.