what is a sheath dress? In fact, it is the fashionable slim bandage dress, which is suitable for all kinds of parties, formal occasions, proms, birthday parties, classmate gatherings, etc.
  The feature of tight fitting skirt is that the contour is close to the body, and the skirt length is from the middle of thigh to the middle of calf. The term "tight fitting" refers to holding tightly the things it encloses. The neckline can change, but the fitted waist is the focus of this kind of dress. Skirt is also usually sleeveless. When the skirt is longer than the middle of the thigh, the opening on the back will make it easier for you to wear it. Due to its rather broad definition, tight skirts can be in many forms, elegant or casual, depending on the fabric and the cut.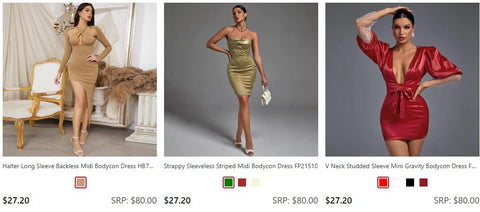 Click to buy:  Bodycon Dresses 
  Shorter skinny dresses are perfect for parties and cocktail parties, while longer, more conservative cut dresses are a must-have item for the office. Skirt was promoted by American designers such as Narcisso Rodriguez, Donna Karan and Ralph Lauren. They liked simple and simple design in the 1990s, but this style began to be used as underwear in the early 20th century.
  As we mentioned above, tight skirts come in a variety of lengths, cut and make, which means you can wear them in a variety of occasions. The most important thing is to find a person who can shape and trim your body. Those with long legs may choose the style above the knee. Don't forget that under the fitted dress, body shaping clothes are a good way to shape a smooth contour.
  Cocktail party: The party you often go to is a slim black dress. Skirts like this can be worn over and over again. Just change your shoes and accessories and try some layering techniques. A long pearl necklace and a pair of black high-heeled shoes, just like Hepburn in Breakfast at Tiffany's. The colorful tassel earrings and high-heeled sandals will give you a fashionable twist.
  Office dress: It is a simple way to wear a suit coat over your tight skirt, which can make your wardrobe a suitable choice all year round. In summer, you can wear a structured work bag and simple earrings without a jacket. Roll your hair into a low bun, and put some red lipstick on it to finish.
  On weekends, a suit doesn't have to be formal. Have brunch with friends or do some errands in the city. Wear a pair of cool white sneakers and your favorite handbag. If you want a special style, wear a pair of oversized sunglasses. For most of the clothes mentioned, they choose high heels as their shoes. Let's talk about something very different. To make your long legs look more fashionable, you can wear a black half sleeve tight skirt and a pair of leather high boots. This dress is really eye-catching, but to be honest, it may be the most difficult one to do. Unless you work hard, you will never know, so wear it and see if you have the conditions to wear it.