Bandage skirts are very popular all over the world now. If you want to engage in wholesale in this field, wowdear is a very good wholesale platform for women's clothing, dresses, bandage skirts, which can be shipped in the United States, with large quantities also including postage. There are various styles, colors, sizes.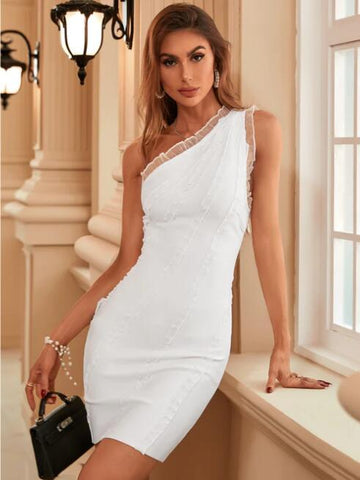 "A woman who likes her body contour does not want it to be wrapped with too much cloth or ornaments, but wants it to present its beauty as straight as a sculpture."
  Designer with the name "Lost"
  Cindy Crawford, a supermodel, posted a group photo of her wearing a red tight dress on Instagram earlier and wrote, "In memory of the father of the bandage dress, it makes you focus on any occasion". In the photo, the man with golden red hair is the French designer H é rve Peugnet who has just passed away.
  The heyday of Hervey Perne was in the 1990s. The "bandage skirt" he invented was called the "second skin". This kind of dress, which was formed by splicing the individually cut fabrics together as if the bandages were intertwined with each other, not only fitted the body, but also highlighted the feminine curve beauty, and almost became the uniform of those "ambitious" models. Some critics believe that bandage skirts have a sculptural sense, which may be related to Hervey's "Pendant" major.
  Born in Babom, northern France, in 1957. Hervey once studied sculpture and art history in the university. He dropped out of school and became a hairdresser for a period of time. He "learned by himself" and worked part-time as a hat. By helping the model with his hairstyle, he indirectly came into contact with high-end customization. After making hats for the show models of French fashion designer Tan Giudicelli for several times, he was invited to participate in the production process of several clothes. Giudicelli gave him a suggestion, why not give up hairstyle design and focus on clothes?
  Hurvey met Carl Lagerfeld, then the brand design director, at the Chloe event. At that time, Carl did not think that the young man had anything special in design, at least the patterns he saw were not very convincing. However, because Hervey's design was very practical, Carl took it as an assistant and worked with Fendi and Chanel for a period of time.
  In 1985. at the suggestion of Karl, Hervey opened his first boutique in Paris and named the brand Herv é L é ger. It was also Karl's idea to change the name. After all, the pronunciation of Perne was too difficult for the main target group Americans to read, and it also took the French L é ger's lightness. At the same time, Hervey also works as a designer in Longman and other brands.
  By chance, a pile of bandages discarded in the factory made Hervey shine. The resulting bandage skirt made his name known everywhere. Fashion critic Suzy Menkes called his early design "the secret of the 1990s". In 1991. Hervey exhibited 54 works in his first solo show. "He just proved that Paris is the creative center of fashion," the New York Times wrote in its evaluation of the exhibition. In 1993. the quarterly sales volume of Hervey Leger was only 160 pieces, and in 1995. it increased to 8000 pieces, ushering in a good opportunity for international expansion.
  Subsequently, Canada's Schglan Group invested in the brand of Helveth, but gradually diluted the share of his founder's stock to 5%. In 1998. the Hervey Leger brand was sold to BCBG Max Azria, an American group headquartered in Los Angeles by Schglan, becoming the first French designer brand ever acquired by an American company. However, the founders of BCBG only wanted the brand influence of Hervey Leger, not Hervey, the "leader". Within a year, Hervey was dismissed and lost the right to use the brand name.
  The Aziria and his wife had spent more than five years in purchasing Hervey Legge designs from collectors in the 1990s to make research archives, which continued the brand DNA - not woven, but woven with bandages of the same size on a knitting machine. Finally, in 2007. the BCBG version of the Herv é Leger series was launched and named Herv é L é ger by Max Azria.
  The designer with the name "Lost", with the support of his old customers, re opened a boutique in Paris in the name of Herv é L. Leroux to design and produce high-grade customized clothing. Many stars, including Kate Blanchett, Jessica Chastan and Christine Stewart, continued to patronize him.
  In the following ten years, Hervey rarely appeared in the eyes of the public. However, its feminine knit skirt and contemporary cocktail dress style are still followed. As the creative director of Guy LaRoche, a Paris brand, Hervey dressed Hilary Swank for the 2005 Academy Awards. When she strode onto the stage to accept the Best Actress Award for her performance in the movie Million Dollar Baby, the contrast between the front and back of the backless midnight blue knitted dress became the focus of the audience.
  After 12 years of silence, when his name appeared again on the calendar of Paris Gaudin Fashion Week, it was no longer the glory of Hervey Legg. This makes people exclaim that when the designer's name no longer belongs to the designer himself, the huge contradiction between creativity and business triggered. As for the thoughtless concern of the outside world, Hervey only responded lightly: "I have been engaged in fashion design, but no fashion show has been held." I don't know whether it would be more comforting or more regrettable for him to see the news that BCBG was declared bankrupt in March this year.
  Bodysuit and Sexy
  "I just want to wait near Hurvey with a check and sneak up on the girls who work in the store and let them buy me all the new colors," Kardashian once wrote on social media. Not only Kardashian, Victoria Beckham and Terra Banks were "fans" of bandage skirts. Because this kind of skirt made of lycra or spandex fiber has a strong sense of coverage and has a tightening and shaping effect on the body. It not only helps to highlight the "hourglass shaped" body, but also allows female stars to pose freely in front of the camera. No wonder the New York Times jokingly called it the "trump bandage".
  Azzedine Alaia, the designer known as the "king of tight fitting", is also exploring the female image that is both curvy and sexy, but also has no pretensions. Since the 1980s, he has tried elastic knitted fabrics, experimental lace and leather mixtures, which triggered the trend of tight fitting clothes, which laid the foundation for the immediately famous Helvey. Before them, this elastic fabric was only used in underwear, sports and dance equipment, because it was too cheap to be used in fashion.
  The bandage skirt overturned the "stereotype" that only exposed the chest or thigh when showing off sex appeal at that time, proving that the same effect can be achieved even if wrapped. Although a piece of thin cloth costs nearly a thousand dollars, girls still flock to it. It was even once crowned "the symbol of women's self liberation". In the book "50 Dresses Changing the World" published by the Design Museum in London, England, it is as famous as Dior's new style, Chanel's little black dress and Princess Diana's wedding dress.
  However, patterns similar to Helvey's bandage skirt quickly appeared on the catwalks of competitors and on the hangers of mass market retailers. What started to make it notorious was that this kind of clothing began to become the standard configuration of "reality shows" - girls who were eager to catch the public's attention often squeezed themselves into the "bandage skirts" of two small sizes to make their bodies appear burst. endprint
  Although Max Azria's Hervey Leger series, which is famous for its "Unapologetic Sexy", even incorporates the charm of punk, designers of brands such as Christopher Kane, Proenza Schouler, Versace and Robert Rodriguez are still assiduously drawing inspiration from Hervey's original design, Still can not prevent people from attributing bandage skirts to "bad taste".
  In 2009. Vogue magazine wrote: "Girls put on the fashion of the 1980s again, trying to go back to the past they had never experienced, and consuming their passion." The bandage skirt has become a plaything for 20-year-old girls, which is difficult to be elegant. Once known as the classic dress design of modern dress, the dress began to suffer vicious criticism, and some critics even blamed it on "the culprit of making the dress from elegant to poor".
  In recent years, tight skirts represented by bandage skirts are disappearing from people's vision. According to Eileen, a British fashion columnist, people don't even have to regret its exit: "It's incomprehensible that girls spend 1000 dollars to buy a small piece of thin cloth and make themselves look like socialite." Even Kim Kardashian, who has made a fortune from it, has given up his obsession with it. It is said that the first thing Monica Rose, her new styling consultant, did was throw more than 30 bandaged skirts from her wardrobe.
  The wind vane of fashion has changed. It can be seen from the cover characters of this year's US Vogue in June that Anna Wintour chose the slightly fat Elle Fanning. Fanning is different from the "Beverly Hills Beauty" that used to occupy half of the fashion circle. Like the Kardashian family, Fanning likes 360 degree shadows and highlights, with rich lips and deep contours. In contrast, her face is a little round, she doesn't like to highlight shadows to emphasize the contour of her face, and her head is slightly larger from the head to body ratio. It's so simple to laugh that 20 teeth are exposed. This is contrary to what Internet celebrity model Bella Hadid called "losing face is fashionable". The use of this new face on behalf of fashion expresses many things, such as imperfect beauty, freshness, not too cool, and so on.
  At the same time, the concept of sex appeal is changing. Look at Natalia Vodianova in Calvin Klein's blockbusters. There is no harsh nudity, no makeup or clothing. Her sexy performance is an indescribable temperament, not a strong visual stimulus. In this way, the bandage skirt, which represents the old stereotype, is indeed out of date, but Hervey Perne's design method still works: "A woman who likes her body contour does not want it to be wrapped by too much cloth or ornaments, but wants it to present its beauty as a sculpture." endprint